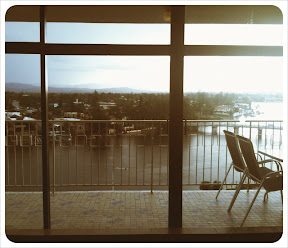 So. Here I am. Sitting in a 70s themed holiday apartment, attempting to write a blog. I've never blogged before. I guess there is a first time for everything.
I've been told, it's polite to start with an introduction. A few paragraphs about one self, maybe a photo. Well, as I see it, anyone who's likely to ever read this blog, already knows me. But manners are manners, so, where do I start?
Oh yes. Here I am. Sitting in a quaint holiday apartment. We're here to celebrate our fourth anniversary. No, not our wedding anniversary, our first date anniversary. The advantage of being married to a slightly gay man is that he remembers such things. Actually I'm more likely to forget them. What does that say about me? What a pair we make!
But yes, our fourth anniversary was actually a week ago. However it's safe to say, hardly no event can possibly hold enough magnitude to compel us travel to the Gold Coast during school holidays! We're safe today. In a far far land William is marrying Kate today. Most locals and tourists are likely to be glued to the TV, watching the wedding of the century. We'll be safe to venture outside in search of a romantic dinner to celebrate our own union.
Don't get me wrong, I'm happy for Will and Kate. They're in love, devoted to each other. I wish them well, and secretly hope the constant scrutiny of their new life won't take its toll on them, as it did on so many others. I've wished them well in my own way and moved on, leaving the hours of coverage to others. I'm happy to find a cozy booth at some Gold Coast eatery and dine in splendor while discussing our non royal life with my own husband.
Four years is a long time in my books. I've been a commitment-phobe for a long time. And to think that this one even managed to lead me to the altar. Or the broomstick, as the case may have been. He tells it differently. I believe the term he uses is "tamed". Everyone is entitled to an opinion after all.
It's been a long four years, and so much has happened in between, but our first date is still fresh in my mind. I think he was trying to impress me when he cooked us that dinner. The steak was a little well done, maybe a little too well done. The sauce was a bit runny. And who serves steak with elbow pasta? I can say this now, you see. We have a marriage certificate that gives me pretty much free reign over what I say. It's one of those unexpected, albeit totally unbelievable perks of marriage. There are some limitations, of course, but ones I wouldn't even dream of testing. We're safe.
So yeah. Elbow pasta, drowned in white sauce? Hardly a degustation meal, but it was strangely tasty, if a little quirky. I think in the end, it was the quirk that did it for me. That "tamed" me. It's funny how one finds the quaint traits of their partners endearing, at least at first. With time they grow to annoying and sometimes even impossible to live with. But it's even funnier, how after coming a full circle, they go back to being cute and amusing. Maybe it's got to
do with changes your love for each other goes through over the years. As it strengthens and matures, so does your view of your partner. The respect they earn over those long years and our shared experiences. Maybe. Maybe it is the "taming".
Whatever it is, I'm happy where I am at this moment of my life. Sitting in this hotel room, attempting my first blog, while my husband plays with my iPhone (he so vocally detests) not more than a couple of meters from me. From time to time he offers me a meek assurance of his love and I shush him with "I'm writing!" I think it's safe to say, I wouldn't have it any other way.
So this is it. My introduction. Has it told you something you didn't already know? I hope so. I may have caved into convention of introduction, but I don't subscribe to the view, it needs to be a revision for you. So I'll leave you here, in the knowledge I'm competing for your attention with Will & Kate. Even more, knowing I will probably come second best to them. Alas! Not to worry, as I'm about to leave for dinner with the most amazing person in the world, and that's all that matters. I'm happy and finally at peace with myself.
And this is who I am.
- Posted using my trusty iPhone, Milford.